Some vintage cars use radiator cores made from coiled tube, a less efficient but simpler construction.
A sectioned view of the cylinder block, radiator and connecting hoses. The hoses link the tops and bottoms of each, without any pump but with an engine-driven cooling fan
Radiators first used downward vertical flow, driven solely by a thermosyphon effect. Coolant is heated in the engine, becomes less dense, and so rises. As the radiator cools the fluid, the coolant becomes denser and falls. This effect is sufficient for low-power stationary engines, but inadequate for all but the earliest automobiles. All automobiles for many years have used centrifugal pumps to circulate the engine coolant because natural circulation has very low flow rates.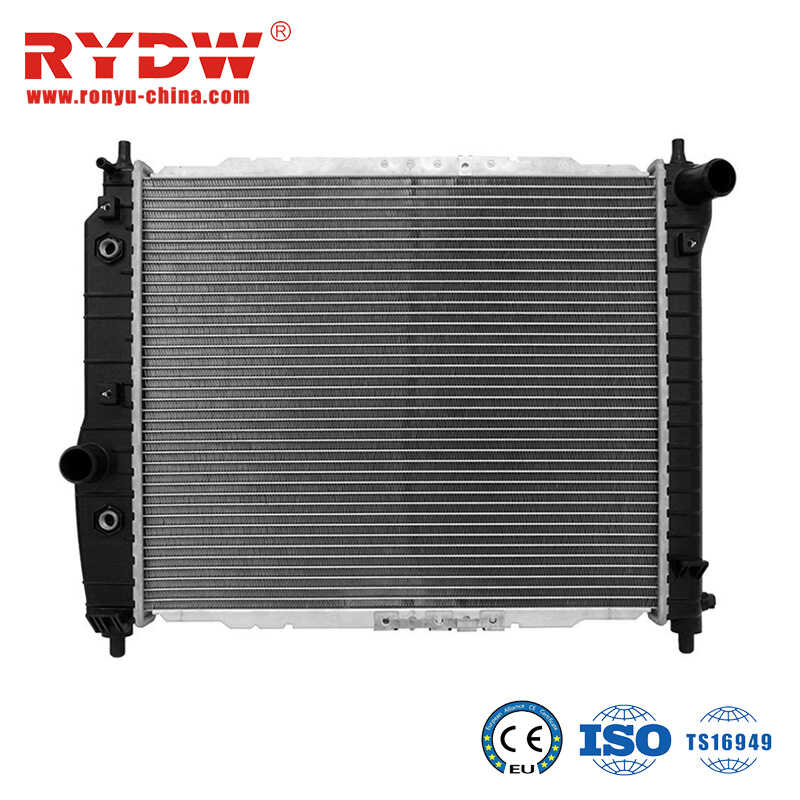 FITMENT: Radiator auto parts compatible with GM CHEVROLET AVEO DAEWOO models Etc.
Components are tested to meet original specification requirements, for remarkable durability
100% newly manufactured as an exact replacement for your GM vehicule
Precision-Engineered To Exact Vehicle Application To Ensure Correct Fit & Function
Buy Auto spare Parts Cooling System Car Radiator Compatible with GM CHEVROLET AVEO DAEWOO,Choose the RYDW brand.
RYDW Radiator always stick to the target. All our products are constantly quality tested, so you can rest assured that your vehicle is always getting the best in its class.
Our products:
RYDW is a brand that has already been registered. Only the authorized sellers are allowed to sell products under RYDW.RYDW will provide you with high-quality products and best after-sale service.
Products detection:
Radiator
Delivers trouble-free, consistent performance
Meets or exceeds OEM specifications
Excellent mechanical stability and corrosion protection
Constantly tested against strict quality requirements
Quality Test:
I supervised the production process of the pump at the factory.
After my installation test, it can be durable.
Production:
RYDW offer the most optimal combination, performance and dependability. We won't let our parts leave the factory until they have been quality-checked three times or more.