Backed by superior materials and rigorous testing, RYDW ball joints, deliver reliable performance you can count on. RYDW problem-solving innovations ensure fast, hassle-free installation.


Premium Ball Joints
Featuring problem-solving innovations for long life and increased durability, RYDW takes pride in being called The Problem Solver. These advancements lead to long-lasting ball joints that are designed, tested and manufactured for easy installation and perfect fit right out of the box.
HEAT TREATED STUD
Ball studs are heat treated to match or exceed OE requirements to inhibit premature failure and improve fatigue strength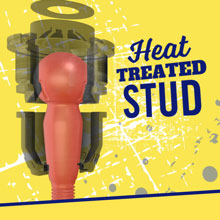 COVER PLATE
Pressed-in cover plate (where applicable) seals out debris and minimizes looseness, reducing bearing wear and promoting longer life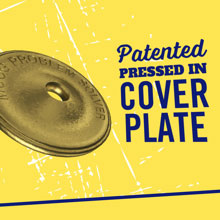 GREASABLE DESIGN
Greasable socket reduces corrosion and wear by allowing new lubricant to flush contaminants (where applicable)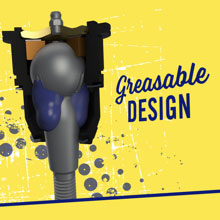 GUSHER BEARING
Problem Solver gusher bearing metal-to-metal design provides strength and allows grease to flow through bearing surface for reduced friction and long life (where applicable)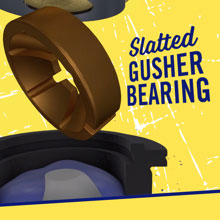 WHAT ARE BALL JOINTS?
A critical component of the front suspension, ball joints consist of a ball and socket similar to the hip joint of the human body. Ball joints provide pivoting movement between the steering knuckles and control arms to provide a safe, smooth ride and allow you to precisely control your vehicle.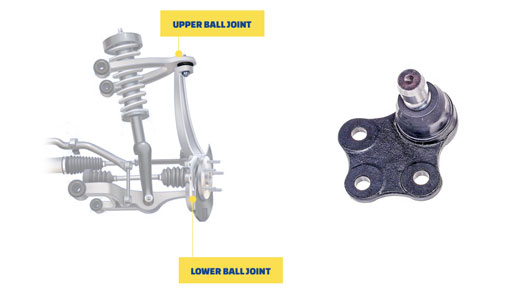 Think your ball joints have gone bad? Worn ball joints contribute to looseness in the front suspension and prevent your vehicle from maintaining wheel alignment. You may experience steering looseness, steering vibration, unusual noises and excessive tire wear.